William Mastin WILLIAMS Jr., "Buckskin" (1809–1859)
Welcome
William Mastin WILLIAMS Jr., (1809–1859) &
Eliza Jane EMBERSON (1822–1856)
great-grandparents of Clara Myrtle GRAY-SADLER Bird (1900-1988)
2nd great-grandfather of Evelyn Virginia BIRD Linton (1922-2012)
page established March 27, 2018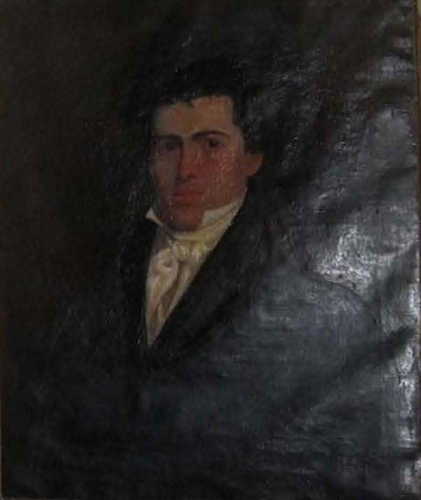 1840 oil painting of William Mastin WILLIAMS Jr., (1809–1859)
William Mastin WILLIAMS Jr., "Buckskin" (1809–1859)
Terry Louis Linton © 2009
LINTON & BIRD Chronicles This day in history © 2009
LINTON & BIRD CHRONICLES, Volume IV, Issue 3, Fall © 2009, ISSN 1941-3521
William Mastin WILLIAMS Jr., "Buckskin" (1809–1859) was born on March 28 1809 in Danville, Pittsylvania County, Virginia. William was the son of James Mastin WILLIAMS Sr., (1763–1838) & Wilmoth "Patsy" WALKER (1768–1850). William married Eliza Jane EMBERSON (1822–1856) on September 20, in 1839 in Seaboard, Princess Anne County, Virginia. Eliza Jane was the daughter of John Eldridge EMBERSON Sr., (1798–1859) & Matilda CARTER (1801–1849). Eliza Jane died on August 27, 1856 in Lamar County. Texas. William died on September 20, 1859 in Lamar County, Texas.
William & Eliza Jane had five known children: John Walker WILLIAMS (1840–1905); Edward Tarrant WILLIAMS (1842–1857); William Mastin WILLIAMS III (1844–1904); Virginia Wilmoth WILLIAMS (1846–1894); Martha Matilda WILLIAMS (1849–1929).
William & Eliza Jane were the great-grandfather of Clara Myrtle GRAY-SADLER Bird (1900-1988) and the 2nd great-grandfather of Evelyn Virginia BIRD Linton (1922-2012).
Linton Research Fund Inc., Publication © 1987-2020 "Digging for our Roots"

Main Menu
Linton Research Fund, Inc., HOME PAGE
Past LINTON Articles from the LINTON Chronicles
Past BIRD Articles from the BIRD Chronicles
History of the Linton Research Fund Inc., LINTON & BIRD Chronicles
WToday's Birthdays & Anniversaries
The LINTON & BIRD Chronicles on Facebook
"Thanks for Visiting, come back when you can stay longer" Terry Louis Linton © 2007

Linton Research Fund Inc., Publication © 1987-2020