Rachel BIRD (1749-1786) & James WILSON, Sr., (1742-1798)
Welcome
Rachel BIRD (1749-1786) & James WILSON, Sr., (1742-1798)
Project
established April 2010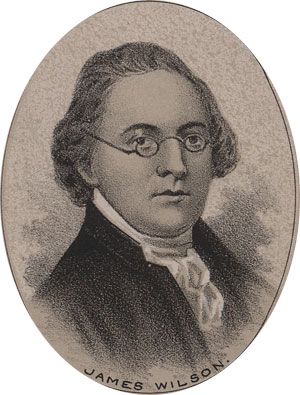 Rachel BIRD (1749-1786) & James WILSON, Sr., (1742-1798)
Terry Louis Linton © 2010
LINTON & BIRD Chronicles This Day in History © 2010
Linton Research Fund Inc., Publication © 2010
Rachel BIRD (1749-1786) & James WILSON, Sr., (1742-1798) were married on November 5, 1771, in the Saint Gabriel's Episcopal Church Amity Township, Berks County, Pennsylvania. Their wedding reception was held at Rachel's father's Bird Mansion in Birdsboro.
Rachel was the daughter of Ironmaster William BIRD (1706-1761) of Irish decent and the founder of Birdsboro & Brigitte HULING (1710-1792) born in New Castle Dutch Colony, in New Castle County, Delaware. Rachel was born on born on January 22, 1750 in Birdsboro, Union Township, Berks County, Pennsylvania and died on April 14, 1786 in Philadelphia, Philadelphia County, Pennsylvania.

James was the son of William WILSON Sr., (1793-1758) & Alison LANSDALE (1716-1788). James was born in Caskardy, County Shire of Fife, Scotland. James signed both the Declaration of Independence and the Constitution.
James & Rachel had six known children: Mary "Polly" WILSON (1772–1832); William "Billy" WILSON (1775–1817) Bird WILSON (1777–1859); James Bird WILSON (1779–1808); Emily Bird WILSON (1782–1809); Charles Bird WILSON (1785–1810).
Rachel & James were great-grand aunt and uncle of Thomas Jefferson BIRD (1961-1931) and the second great-grand aunt and uncle of Jeff Augustus "Gus" BIRD (1893-1954)
Linton Research Fund, Inc., HOME PAGE
Past BIRD Articles from the BIRD Chronicles
Past LINTON Articles from the LINTON Chronicles
History of the Linton Research Fund Inc., LINTON & BIRD Chronicles
Who is having a Birthday or a Anniversary today
The LINTON & BIRD Chronicles on Facebook
"Thanks for Visiting, come back when you can stay longer" Terry Louis Linton © 2007

Linton Research Fund Inc., © 1987-2019