Kirk Louis LINTON (1914-1987) Brief Historical Sketch
Welcome
KIRK LOUIS LINTON (1914-1987)
Brief Historical Sketch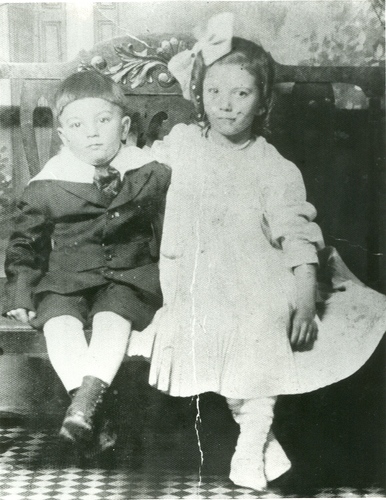 Above: Six year old, Kirk Louis LINTON and his eight year old sister, Florence Avis LINTON. Photo taken in 1920 in Alexandria, Virginia studio, the earliest known photo of the two of them.

Linton Research Fund Inc., Publication © 1987-2018 "Digging for our Roots"
KIRK LOUIS LINTON (1914-1987)
Brief Historical Sketch
By Terry Louis Linton © 1987
Linton Research Fund Inc., Publication © 1987
Linton & Bird Chronicles Volume II, Issue 2, Spring © 2007
Kirk Louis Linton was the 3rd child of Charles Edward Linton (1890-1958) and Annie Lucretia Cronk (1888-1956). Kirk was born on January 29, 1914 according to his mother. Kirk was born on February 3, 1914 according to his birth certificate. Kirk was born in his grandfather farm house, attended by a midwife. According to Kirk, his mother named him after "Kirk, the Church of Scotland and after Uncle Louis Milten Cronk."
The Linton Farm House was a white two-story log framed, wood planked, with two garrets and two dirt root cellars. The farm house was built in 1878 by Kirk Louis Linton's grandfather, John Edward Linton. The farm was located in the Mount Vernon District of Fairfax County, Virginia. The local area was known through the years as Little Hunting Creek in the 1600's; Clifton's Neck in the early 1700's; Sheridan's Point mid 1700's; Mount Vernon Plantation and River Farm Plantation in mid-1700's; Little Hunting Creek Plantation early 1800's; Walnut Farm Plantation in the mid 1800's; Beginning in 1898 the local area became known as Fort Hunt or Riverside Park and Hunter's Station. Today it is known as Mount Vernon. The Linton Farm is location on Linton Lane. Just off of Fort Hunt Road.
Kirk Louis Linton was born as raised on his grandfathers and father's Linton Family 48 acer Farm. Raising milk cows and bulls and selling their caves in Baltimore or Manassas and Kokesville, Virginia stock yards. Kirk would work his eight-hour shift and overtime at Potomac Yards for the Richmond, Fredericksburg & Potomac Railroad then sleep awhile and then do his farming. Kirk rising a full line of crops to be sold daily, like his father, did at Potomac Yards. Later, Kirk set up a deal to supply the Fort Hunt Drug Store and their Lunch Counter with all their fresh vegetables. The rest was sold daily at the "Corner." The "Linton Corner" was located where Fort Hunt Road makes its 90 degrees turn into Fort Hunt and the beginning of Vernon View Drive.
Kirk attend the same, two room, Snowden (Elementary) School that his father went to. Snowden school was set up by the Quakers when Kirk's great-grandfather Doctor Louis Colvert LINTON (
It was on Pointe Road, now Fort Hunt Road and near Collingwood Road, from 1920 to 1926.
According to a receipt Kirk perched a 1922 Indian motorcycle (made famous in World War I).
Below: According to a receipt Kirk perched a 1922 Indian motorcycle (made famous in World War I) this is a photo of an Indian Scout motorcycle this model made between 1920 and 1929 photo By Yesterday's Antique Motorcycles en Classic Motorcycle Archive, CC BY-SA 3.0,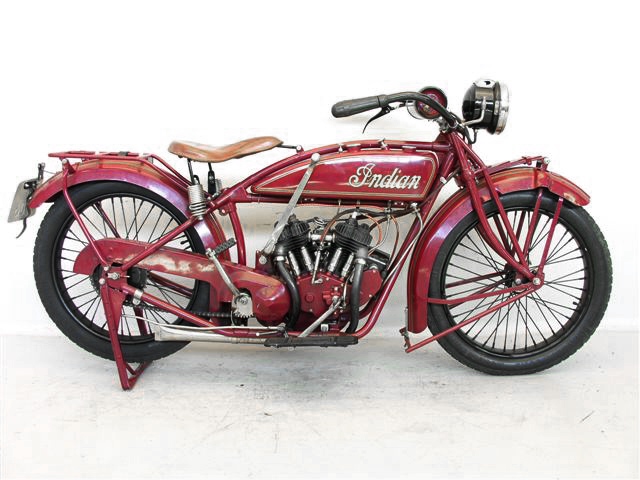 On May 13, 1931, Kirk bought a used 1925 Model T roadster for $218.
Because of School District changes, Kirk attended three different high schools. Kirk spent his first year of high school at Alexandria High School on Cameron and West Streets in Alexandria, Virginia. Kirk's next year was spent at the West End High School, located on Duke Street in Alexandria. Kirk's last two years were spent at Lee Jackson High School. Kirk graduated from Lee-Jackson High School, Cameron Valley, Fairfax County, Virginia on June 7, 1935.
Kirk would ride the Mount Vernon Trolley Car, to school, from Hunter's Station into Alexandria in good weather. The Washington, Alexandria and Mount Vernon Electric Railway operated from 1898 to 1930. When the weather was, bad Kirk would ice skate on the Potomac River when it was frozen over to get to school.
After graduation from High School Kirk played baseball on the semi pro team the Fort Hunt Ranger's Baseball Club. The team traveled throughout Virginia playing other semi pro teams.
In 1935, Kirk's sister, Florence Avis Linton Beavers, got Kirk a job at River Bend Restaurant where she was working as a cook. Kirk went to work, as a dish washer at River Bend Restaurant. River Bend was a restaurant and a night club owned by the Nightingales. River Bend was established when the new Mount Vernon Memorial Park Way opened. The restaurant was located at the present-day intersection of Vernon View Drive and the Mount Vernon Park Way. The Nightingales had bought a small part of Doctor Lewis Colbert Linton's West Farm containing Frank Linton's Fishery and the Indian Camp. The Nightingales built a large log restaurant next to the old Indian Camp log cabins Kirk first made 25 cents per-hour. River Bend was advertised as "25 minutes from Washington on the beautiful Mount Vernon Memorial Boulevard; Early American Atmosphere; Delightful view of the Majestic Potomac from the Dining Veranda, Fried Chicken, Country Ham and Dinners; A la carte at Popular Prices; Beer, Wines and Ale; Phone Alexandria 39-F-12; Dancing, Dave McWilliams Orchestra."
Kirk continued to work at River Bend while also working as a cable layer at the new U.S. Coast Guard Station that was being built on Telegraph Road on George Washington's old Hayfield Farm. Kirk next worked as a construction worker at Fort Belvoir. In early 1939 he went to work at the Fort Belvoir Commissary. In January of 1940, Kirk became a railroad fireman for the Richmond, Fredericksburg and Potomac Railroad Company. That same year, 1940, Kirk became a volunteer fireman for the Mount Vernon Volunteer Fire Department. Which Kirk's Uncle George Whippoorwill Phillips had just established. Kirk worked full-time for the railroad for a while, then was Laid-off during the week and just worked the weekends at the Richmond, Fredericksburg & Potomac Railroad. Kirk then went to work during the week for Cample Sand and Gravel Company, as a truck driver, hauling gravel for the new graveled Fort Hunt Road.
During World War II, Kirk was drafted into the U.S. Army and was set to leave for the War, but his work as a fireman for the Richmond, Fredericksburg and Potomac Railroad deferred him. During World War I and II all military supplies and troops were conveyed by rail. During the World War II, Kirk wore is white, round helmet and s took part in the Civil Defense of Alexandria, Virginia.
On January 13, 1944, Kirk Louis Linton was promoted to Railroad Engineer for the Richmond, Fredericksburg & Potomac Railroad. First working on the "Road," taking freight trains down to Richmond. Then with more time in, being able to stay closer to Potomac Yards and finely working the "Hump" at Potomac Yards, making up the north and south bound freight trains moving all up and down the Atlantic Coast Lines.
Alexandria Gazette: "Decapitated Body Found on Duke St. Railroad Tracks. The body of a man, cut in half at the waist, was discovered early today on the Richmond, Fredericksburg & Potomac Railroad tracks at the Duke Street underpass, Alexandria police revealed this morning. The victim of a train, he was identified as Albert Lambert Praska, 42, who had been a resident at the Duke Street motel until he checked out March 9. The body was discovered by Kirk L. Linton, an engineer for the railroad, who was bringing a train into the Union Station at 1:30 A.M. Linton told Pvt. G. Logwood of the Alexandria Police Dept. that he saw what he thought was a bundle of papers beside the track, but realized as the train approached the spot that it was part of a body. Railroad officials and police theorized that an earlier train which entered on the same track at 10:37 P.M. had struck Praska."
On November 25, 1961, Kirk L. Linton was the engineer who made the "last run" of Southern locomotive number 1401 as it was driven to its final resting place inside the Smithsonian's Museum of American History. Kirk drove the 1926, Pacific Type Steam Locomotive from Potomac Yards to 6th and C Streets in Washington, D.C. and into the museum under construction. Southern 1401 was made by American Locomotive Company at the Richmond Works in July 1926. It was in passenger service from 1926 until 1951.
Kirk farmed the Linton Family Farm until 1964, when Fairfax County condemned the Charles E. Linton estate for the purpose of building a new county school named Fort Hunt Elementary School.
Kirk and family moved off of the Linton Family Farm in 1964. They moved to Plymouth Heaven. Which is located just north of his Kirk's great-grandfather, Doctor Lewis Colbert Linton's, Sheridan Point Plantation now known as Fort Hunt and Potomac Valley Subdivision.
On January 15, 1971, Kirk was appointed the Administrator of the Estate of his brother, Theodore Francis Linton (1917-1970).
Kirk Louis Linton retired from the Richmond, Fredericksburg & Potomac Railroad on April 1, 1979 after 39 years.
Kirk, after retiring from the Richmond, Fredericksburg & Potomac Railroad, Kirk and Evelyn moved to Spotsylvania County, Virginia.
Kirk Louis Linton died on July 18, 1987, in Mary Washington Hospital, Fredericksburg, Virginia. Kirk was buried at Mount Comfort Cemetery, Fairfax County, Virginia. Kirk was buried next to his father and mother.
Linton Research Fund, Inc., HOME PAGE
Past BIRD Articles from the BIRD Chronicles
Past LINTON Articles from the LINTON Chronicles
History of the Linton Research Fund Inc., LINTON & BIRD Chronicles
Who is having a Birthday or a Anniversary today
The LINTON & BIRD Chronicles on Facebook
"Thanks for Visiting, come back when you can stay longer" Terry Louis Linton © 2007

Linton Research Fund Inc., Publication © 1987-2018