Our Quaker emigrants
Welcome
John LINTON (1662–1709) and Rebekah RELFE (1670-1714)
"Our Quaker emigrates"
On board the "CANTERBURY"
Terry Louis Linton © 1984
Linton & Bird Chronicles Volume I, Issue 1, © 1984 (ISSN 1941-3521) (printed in Spotsylvania County, Virginia, USA.)
On September 3, 1699, the ship CANTERBURY, weighed it's anchor and set sail from Cowes, Island of Wright, England for a it's voyage to America. [1]
On board the CANTERBURY were Quaker master carpenter John LINTON (1662–1709) and his wife Rebekah RELFE (1670-1714) 'the emigrates" and their three young children, Anna LINTON (1694–1699), Mary LINTON (1695–1769) and Joseph LINTON (1697–17470). Also, John's brothers, David LINTON (1665–1739), Jacob LINTON 1670–?) and Samuel LINTON (1675–?) were on board. [2]
John and Rebekah's daughter, Anna died during the voyage and was buried at sea.
Quaker William PENN (1644-1718) and his wife Hannah and daughter, Letitia, were on board the CANTERBURY. also accompanying them was his secretary, James Logan. This was Penn's second visit to his Pennsylvania Colony. [3]
On November 3, 1699, the CANTERBURY landed at Newcastle, Delaware and on November 30, 1699 it set sail and landed December 1, 1699 at Philadelphia Dock.
Sources:
[1] WELCOME CLAIMANTS PROVED, DISPROVED & DOUBTFUL With An Account Of Some Of Their Descendants, McCracken, George E., The Welcome Society of Pennsylvania, 1985, pages 170, 320, 417.
[2] A GENEALOGY OF THE DESCENDANTS OF JOHN LINTON (1662‑1708) AND REBECCA RELF AND THEIR "IN‑LAWS" Compiled Morris Linton, The Linton Association, Swarthmore, Penn-sylvania, 1938, Call Number: Fa 929.2 L761L 1938
[3] WILLIAM PENN Architect of a Nation, Trussell, John H. B. Jr., Pennsylvania Historical And Museum Commission, Harrisburg, Pennsylvania, 1983, page 53.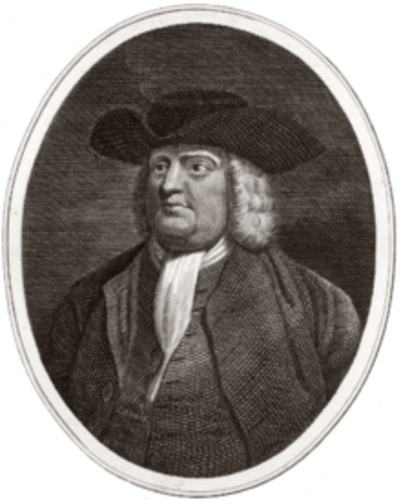 Quaker William Penn (