As the Mill Wheel Turns
Welcome
As the Mill Wheel Turns
by Chris Scovill © 2010
Gristmill Gazette © 2010
Jerusalem Mill Village New & Notes
Editor
Susan K. Wooden
reprinted by the Linton Research Fund Inc., Publicaton © 2010 with permission
LINTON & BIRD CHRONICLES, Volume V, Issue 2, Summer © 2010, ISSN 1941-3521
In 1769, millwright Isaiah Linton engaged David Lee, a miller from Bucks County, Pennsylvania, in a partnership to operate a gristmill that Linton intended to build on a tract of land called Jerusalem, along the Little Falls of the Gunpowder.
The gristmill was completed in 1772. One of numerous mills in this area (perhaps as many as 80 or 90 in Harford County over the course of time), it was distinguished from other mills by its technology and longevity. Typically, mills have an external water wheel, but here there were two wheels in the basement. The advantage of this arrangement was to address the vulnerability of external wheels to freezing up in the winter, which required the miller to either break the ice off the wheel or wait for a thaw to resume operations.
The mill was powered by a race, a hand dug canal that transported water from a small dam approximately one-half mile upriver. Water flowed down the race, under the road, and then entered the building through an opening below the second window from the west end of the building to pass through the basement and power the two internal wheels. A picture on the wall in the Visitor Center shows the race in front of the mill around 1930.
The original mill is listed in the 1814 tax assessment as "grist mill 2-story 60x32 ft". Known as Lee's Merchant Mill until the 1870s, the mill was one of the important early mills in Harford County, and one of the largest merchant grist mills in Maryland.
The business eventually evolved to a combination of services for the local farming community. The Lees sold the mill and race in 1886. There was a succession of owners and millers thereafter. The last miller was Jack Bridges, who found creative ways to compensate for the decline of flour milling. When Jack died in 1961, the State bought the mill and adjacent properties for the Gunpowder Falls State Park.
Chris Scovill © 2010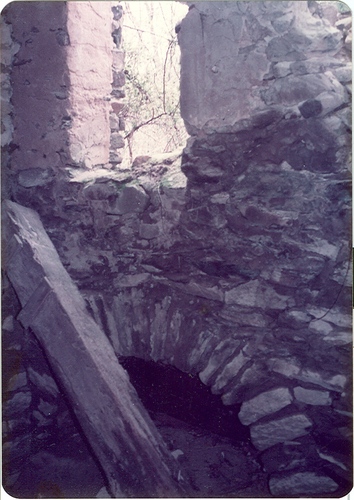 Above: Basement water wheel pit showing the north stone exit tail race from Jerusalem Mill, in 1984, photo taken by ©Terry Louis Linton
Below: The foundation of one of the two water wheels in the basement water wheel pit in Quaker master millwright Isaiah Linton's Lee's merchant water grist mill, later to be known as Jerusalem Mill. The mill located on Little Gunpowder Fall was completed in August 1772 in what was Baltimore County, now Hartford County Maryland. Photo taken in 1984 by ©Terry Louis Linton.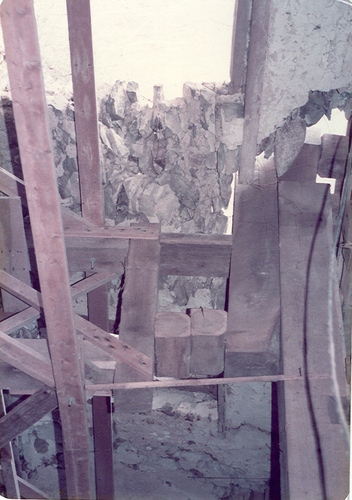 Below: Looking from the water wheel pit at the inter working gears, shafts and wheels in the upper basement level, the powering room of the Jerusalem Mill, Photo taken in 1984 by ©Terry Louis Linton.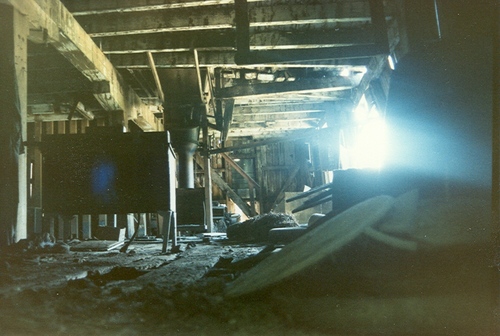 Jerusalem Mill Hartford County, Maryland, photo by Sean Simmons © 2016