Friends of Jerusalem Mill Silver Jubilee
Welcome
Friends of Jerusalem Mill Silver Jubilee
Origins of Friends of Jerusalem Mill
By Harry Sanders & Chris Scovill © 2010
(copyrighted article from the Gristmill Gazette © 2010)
republished by the Linton Research Fund Inc., with their permission
*******************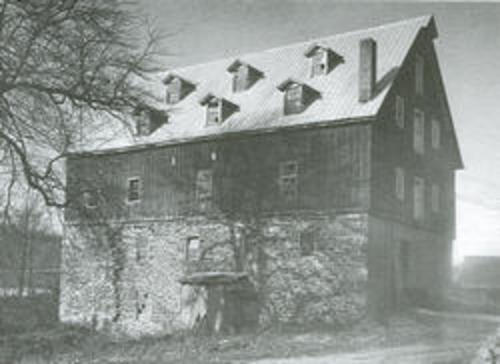 Jerusalem merchant water grist mill, in Harford County, Maryland. Quaker master millwright, Isaiah Linton (1739-1775), completed the mill, on the Gunpowder Fall, in 1772, at the time it was located in Baltimore County.
Friends of Jerusalem Mill Silver Jubilee
Harry Sanders & Chris Scovill © 2010
Gristmill Gazette © 2010
Jerusalem Mill Village New & Notes
Editor
Susan K. Wooden
Origins of Friends of Jerusalem Mill
Longtime members know the origins of Friends of Jerusalem Mill, but it is a tale worth retelling in this silver anniversary year.
Jerusalem Mill had a long, storied life from 1772 to 1961 when the last miller, Jack Bridges, died. The State bought the mill, the former blacksmith shop, and the building commonly referred to as the Gun Shop. These were among the first properties to be acquired in what became Gunpowder Falls State Park. Unfortunately, no use was made of these historic 18th century structures, so they sat vacant for nearly 25 years while falling into disrepair.
In 1985 their savior arrived in the unlikely person of a 12-year-old boy. Scott Sanders lived with his schoolteacher parents, Harry and Carol, and sister, Kristen, just up the road from the mill, so he had almost daily opportunity to witness its decline. With the clear vision of youth, Scott asked his father why nothing was being done to save the mill. From that defining moment Harry undertook to form the Friends of Jerusalem Mill.
Initially there was a small committee of Harry Sanders, Latham Martin, Mary Frances Shepherd, Frances Bell, Steve Wortek, and Glenn Porter. Christopher Weeks and Mary Helen Cadwalader wrote the nomination for placement of the entire village on the National Register of Historic Places. Ken Holt filed incorporation papers and pursued designation as a 501(c)(3) nonprofit organization, and thus Friends of Jerusalem Mill was formally created.
The challenges of navigating through government channels were daunting, but Harry persisted. The late Senator Bill Amos was persuaded to champion our cause, and Rick Barton, Superintendent of State Parks, was a sympathetic ear within the Department of Natural Resources. As evidence of our commitment, Friends of Jerusalem Mill, undertook restoration of the Gun Shop with Latham Martin, Butch Profili, Bob Langley, Guy Akob, and Walter Mast performing the work.
The completed project convinced any doubters of our sincerity. The decision was made that the mill would become the headquarters for Gunpowder Falls State Park. Unfortunately the original structure had deteriorated to the point where it made economic sense to take the old mill down and then build a replica incorporating some original components. While this work was being done under a state contract, Friends of Jerusalem Mill, began restoring the blacksmith shop, with sweat equity and little money.
The mill was dedicated in 1995. Starting with a few artifacts, the museum and visitor center opened with Chris Scovill as curator and Bill McCartin in charge of fabricating displays. Terry Crawford was instrumental in starting costumed interpretation in the Gun Shop, as well as the annual Colonial Craftsmen Weekend. With some initial trepidation, we undertook our summer concert series organized by Leigh Ullrich.
With Program Open Space funds, the State acquired the privately owned structures. Jack Shagena was recruited to oversee reconversion of the general store with a crew comprising Mary Holt, Hank Bullwinkel, and Joan Scovill.
We sincerely thank everyone involved over the years whose names we did not mention!
Harry Sanders & Chris Scovill © 2010
Quaker master millwright Isaiah Linton (1739-1775) Jerusalem Mill, in Hartford County, Maryland before reconstruction in 1990