Isaiah LINTON (1738-1775) Gallery
LINTON & BIRD CHRONICLES, Volume IV, Issue 3, Fall © 2009, ISSN 1941-3521
Welcome to the Isaiah Linton (1739-1775) Gallery!
Isaiah's Gallery is being updated constantly and is a work in progress!
Do You Have any you want to add?
Updated, June 12, 2009
All images and text Copyright Linton Research Fund, Inc., © 1987-2009
Isaiah Linton's (1738-1775) Gallery is a work in process. We will be adding to it from time to time from the thousands of photos we have of Isaiah's mills, dwelling and advents over the last forty-one years.
****************************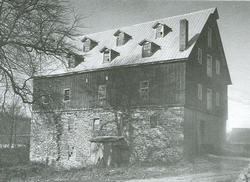 Above photo: the east side of Jerusalem Mill built in 1772, by master millwright, Isaiah Linton (1739-1775).