Theodore "Ted" Francis LINTON (1917-1970)
Welcome to the Theodore "Ted" Francis LINTON (1917-1970) Project
Terry Louis Linton © 1987-2011
Linton Research Fund Inc., Publication © 1987-2011
LINTON & BIRD CHRONICLES, Volume IV, Issue 2, Summer 2009, ISSN 1941-3521
updated October 19, 2011
_______________________________________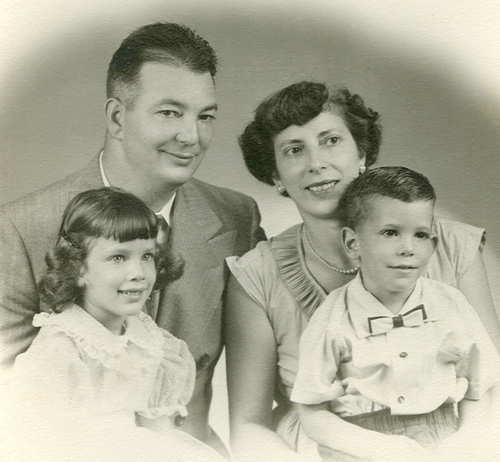 Theodore "Ted" Francis Linton, Lucy Ann VOLONINO Linton (1913-2001), Andrea Ann LINTON Hollis (1951) and John Edward LINTON (1952). in 1955
Theodore "Ted" Frances Linton (1917-1970)
born May 23, 1917
Married March 5, 1952 Lucy Ann Volonino (1913-2001)
died December 9,1970
Ted and Lucy Ann had two children:
_________________________________
Theodore "Ted" Francis LINTON (1917-1970)
LINTON Chronicles This Day in History © 2009
Theodore "Ted" Francis LINTON (1917-1970) was born on May 23, 1917, on the John Linton Farm near Fort Hunt & Hunter Station in the Mount Vernon District, of Fairfax County, Virginia. Ted was the son of Charles "Charlie" Edward LINTON (1890-1958) and Annie Lucretia CRONK (1888-1956).
Ted married Lucy Ann VOLONINO (1913-2001) on March 5, 1952.
Ted was the 2nd great-grandson of Master millwright Isaiah LINTON (1739-1775) and Sarah HIRST (1742-1823). Ted is the 5th great-grand son of John Linton ( 1662-1709) and Rebekah RELFE (1670-1714) the Emigrants from Parish Lowe Crosby, County Cumberland, England.
Theodore is the 9th great-grandson of William STONESTREET (1560-?) and Mary FORESTER (1567-?) of Hailsham, Sussex, England.
Ted is also the 25th great-grandson of Lord John de SOMERVILLE, Baron Lintone (1150-1194) the slayer of the Lintone Dragon and builder of Linton Tower in Lintone Parish, Roxburghshire, Scotland and Katherine HALLIDAY (1160-After 1197) the Heiress of Moffat.
Ted is also the 25th great-grandson of Nicholas Fitz-Gilbert de Tailbois de RADCLIFFE (1097-?) of Lancashire and Lady de TAILBOIS (about 1097-?).
Ted is also the 30th great-grandson of Leofric MALET, Earl of Mercia and Lady "Godiva" GODGIFU (1004-1080) of Coventry, England.
____________________________________
Clerk, Richmond, Fredericksburg and Potomac Railroad
Theodore "Ted" Francis Linton (1917-1970) the brother of Kirk Louis Linton, in 1937, got a part-time-job at Potomac Yard, in Alexandria for the Richmond, Fredericksburg and Potomac Railroad. On April 28, 1939, Ted started working full-time in the Operating Department Transportation Section, of Potomac Yard. Ted worked there for 33 years, until his death on December 5, 1970. Ted married Lucy Ann Volonino (1913-2001). Lucy was the daughter of Andrea Volonino (1884- ?) and Concetta Nastasia (1871- ?) who were both born in Barile, Italy. Ted was featured in The Linton Family, Who's Who in America, a Family Archive Press Publication © 1995.
_________________________________
How are you related to Theodore "Ted" Frances Linton
Theodore "Ted" Frances LINTON (Brief Lineage Heritage)
Ted's Photo Gallery
Ted's mother, Annie Lucretia Cronk (1888-1956)
Ted's father, Charles Edward Linton (1890-1958)
Ted's grandfather, John Edward Linton (1838-1901)
Ted's 3rd great-grandfather, Isaiah Linton (1739-1775)
Linton Research Fund, Inc., HOME PAGE
The LINTON & BIRD Chronicles on Facebook
LINTON Family Tree
The Virginia Lintons Family Tree
Richmond, Fredericksburg & Potomac Railroad Historical Society, Inc.
Thanks for Visiting, come back when you can stay longer!
****************************
Below photo originally taken in 1929. From right to left: Kirk Louis (1914-1987) Theodore Francis (1917-1970) Florence Avis (1912-1990) Madeline Elizabeth (1922-1991) Annie Lucretia Cronk (1890-1958) Bernadette Thelma (1921)